New Early Bird menu
As we move into the winter months, we are putting our Pizza oven on holiday until the sun reappears!
However, we are now offering a great value 'Early Bird' menu on Saturdays between 3pm and 6pm – the menu will change weekly giving you a chance to try all sorts of dishes at a great price – just £15 for 2 courses or £18.50 for 3 courses. Click here to see a sample menu.
25% off Food on Mondays
We will now be offering a 25% discount off all food on Mondays from 6pm, so the perfect time to indulge in an extra course! See our full list of Autumn offers below.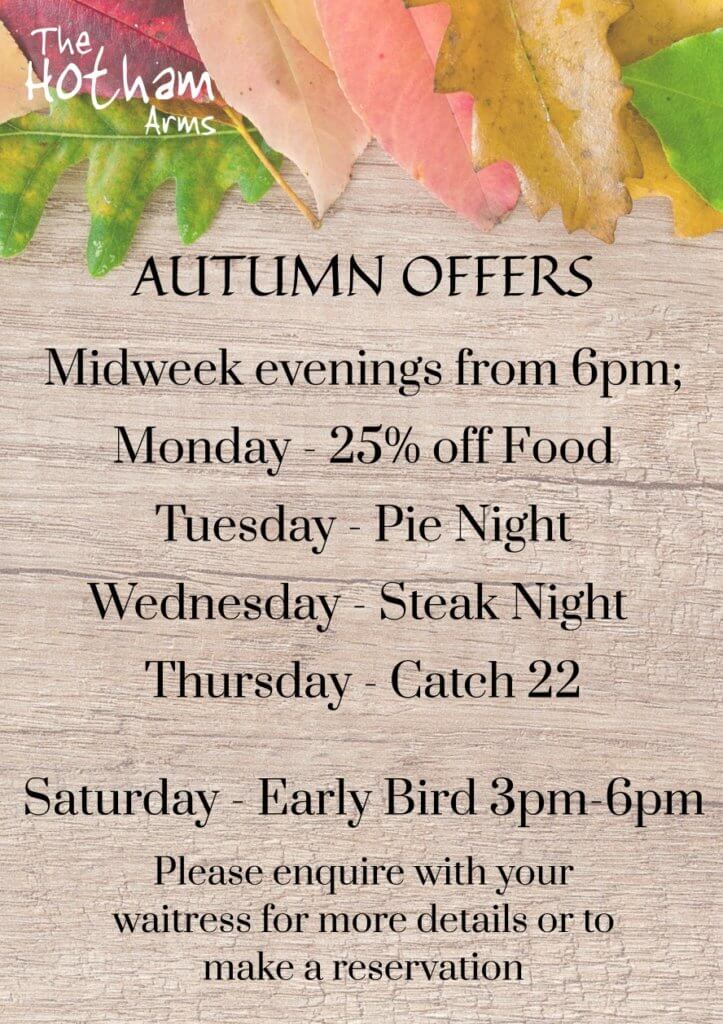 Continuing Work Outside
Our work on our patio/pizza area continues, primarily getting glass fitted! Beautiful stained glass has been fitted in the eaves which flashes stunning jewel tones through the whole space.
We have also fitted a huge window to the pizza area to further weather-proof the space. We have a roaring wood fire on the evenings to keep warm, so it is a lovely space for a casual meet up.
Christmas at the Hotham Arms
As we get later in the year, it's time to start making plans for Christmas!
We will have 2 festive menus available throughout December, one lighter lunchtime offering for just £15 for 2 courses, and one more indulgent menu perfect for an evening meal at £30 for 3 courses. Email us on hello@thehothamarms.co.uk for more details or to book in!
We look forward to welcoming you very soon.